Jaar: 2011
Techniek:installatie
Materiaal:metaal, rubber, motoren, hout
Motivatie:
De tong is zintuig van lust maar ook van verfijning. Lust versus het goede leven. Balans versus primair gedrag. Beheersing rust versus woede en chaos. Lust voert de zintuigen, terwijl onze bezinning de geest voedt. Het ruwe en onbeheerst pakt alles van de tafel zonder na te denken over gevolgen of te genieten van het moment. Likken, proeven, reuk zijn primair verbonden met de hersenen. Dieren gebruiken hun tong ook als zinnen prikkeling en gaat voor primaire behoeften.
De tafel is van ruwe hout, primair, puur en door te likken wordt de lust maar ook de bezinning getest. Gelikt worden op de huid is een vreemd gevoel, wat wekt het op. Bezinning of lust.
De tong verraad de smaak van wat je eet en ook het goede "Bourgondische"leven. Maar is ook teken van lust. Door over de tafel te bewegen en te likken of te likken wat op tafel komt, is dat lust of smaak van het goede, pure de zintuigelijke prikkeling.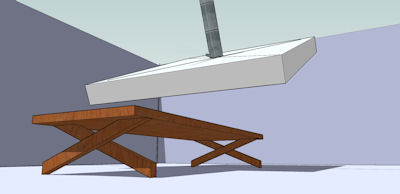 maart 17th, 2011