Jaar: 2012
Techniek:installatie
Materiaal:aluminium e.a. metalen, motoren met schakelaars, gras
Motivatie:
Concept schets voor het project Waving Grass. Interactieve grond, moving the masses.
De natuur is altijd al interactief of anticiperend. Een biomechanisme. Het concept van de
natuur is adaptive. Change or die. Maar kunnen wij onze eigen technologische evolutie
nog wel aan. Zullen wij niet zelf aan de regels van de natuur moeten beantwoorden als een
nieuw en verbeterde mensachtige organisme gaat ontstaan. De natuur wint altijd, want als
wij geen druk meer uitoefenen om te artificeren, zal uiteindelijk een natuur organisme het
terrein terug vorderen.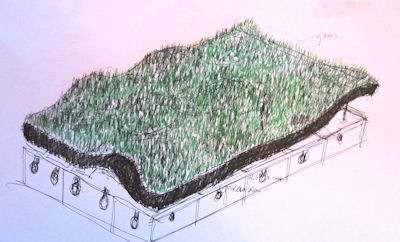 december 28th, 2011